Pulp and paper mills are characterised by a high explosion and fire hazard due to their processes. Most of the raw materials, semi-finished products, finished products and by-products used in them are chemically hazardous and/or flammable. In addition, pulp and paper mills have pressure vessels and lifting facilities. All of these hazards result in an increased risk of pulp and paper accidents. Here's a look at why pulp and paper mills are dangerous and how to protect them from explosions.
Some statistics on accidents
Every year, accidents with serious or fatal consequences occur at pulp and paper facilities. We have compiled some of the most high-profile cases over the past few years.
January 2013а — rupture of a tank with untreated condensate due to depressurisation during commissioning works at the Bratsk industrial site of Ilim Group's Bratsk Timber Complex. Two employees of the contractor organisation were injured. They were taken to hospital in serious condition.
November 2015 — explosion due to ignition of vapours in a process tank with slightly concentrated sodium hypochlorite solution at the Bratsk Timber Processing Complex. An employee of a contractor organisation was killed, two victims were taken to hospital in varying degrees of severity.
July 2020 — pipeline rupture during repair work at Svetlogorsk Pulp and Paperboard Mill. Two workers received alkali burns. Subsequently, one of the injured died.
December 2021 — explosion followed by a fire due to depressurisation on an oxygen line at the Ust-Ilimsk Pulp and Paper Mill. Five people were injured. Three of them subsequently died in hospital.
April 2022 — methane release in a sewage collector at the Selenginsky pulp and paper mill in Buryatia. Five workers were killed.
August 2022 — flue gas emission in the soda recovery boiler shop of the Ust-Ilimsk Pulp and Paper Mill. A worker was injured. He later died in hospital from burns.
June 2023 — an outbreak of a gas-air mixture during flushing of a heat exchanger in the turpentine evaporation shop at Svetlogorsk PPM. No exact data on casualties.
Accidents at pulp and paper mills occur for similar reasons:
explosion and fire protection systems are missing or outdated;
the rules of technical operation are not observed in terms of timely equipment maintenance;
the actions of contractor organisations are not controlled;
worn-out equipment is in use;
Work technology is violated;
untrained personnel are allowed to work.
But even if all the rules are observed, pulp and paper industry enterprises burn and explode. This is due to their production technology: the use of aggressive chemical media, organic raw materials, and complex equipment. It is impossible to completely eliminate the risk of accidents at pulp and paper mills. But it is possible to minimise it and reduce the consequences.
Explosion and fire hazards in pulp and paper production facilities
There are several hazards in pulp and paper mills, but we will focus on one of them: combustible dust and gas-air mixtures. Their explosion hazard is assessed by the LEL, the lower concentration limit of ignition. This indicator reflects how much flammable substance must be minimally contained in one cubic metre of air for ignition to occur. For dusts, it is estimated in g/m3; for gases, in %.
All industries where the NCPV is below 65 g/m3 or 10% are classified as explosive. See the table to see how much this figure is for substances in pulp and paper mills.
| Material | LEL, g/m3 |
| --- | --- |
| Wood flour | 11,2 |
| Rosin | 12,6 |
| Hardwood lignin | 30,2 |
| Softwood lignin | 30,5 |
| Sulphur | 2,3 |
| Phenolic resin | 25 |
| Sulphur carbon | 1,2 % |
| Acetone | 2,5 % |
| Methane | 5 % |
The dust or gas/air mixture, when reaching the lower concentration threshold, is already capable of igniting in contact with the ignition source and causing a localised explosion. The shock wave from this source favours the spread of the flame further. New volumes of combustible mixture come into contact and a series of secondary explosions follow, destroying equipment and killing people.
Combination of conditions leading to ignition and explosion

Ignition and subsequent combustion occur when there are at the same place at the same time:

substances characterised by exothermic reactions,
sufficient oxygen (oxidising agent),
an effective ignition source (an effective source of combustion initiation).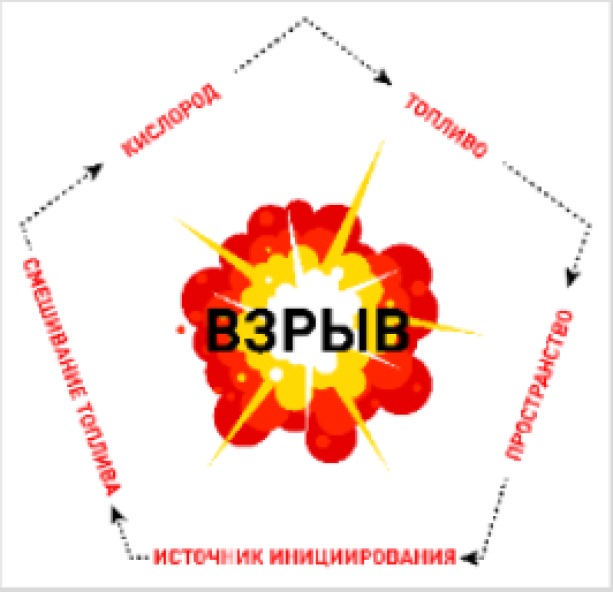 Causes and locations of combustible suspended solids formation
The explosive environment in pulp and paper mills is present in several places. During the transport and processing of wood-based materials, cellulose dust is generated. This accumulates in dust extraction systems, so there is always an explosive environment in these systems. Also, aggressive chemicals are used at pulp and paper mills, the vapours of which accumulate in tanks and pipelines.
Due to violation of technological processes, jamming of fast rotating parts of equipment may occur, which leads to sparks and overheating of bearings. In addition, there are always heated surfaces at pulp and paper mills - walls of digesters and recovery boilers, wood waste disposers, pipelines.
Combustible media and ignition sources come into contact and lead to localised explosions. What are the most frequent causes of fires and accidents at pulp and paper mills:
violation of the rules of fire-fighting operations at industrial sites, in workshops and warehouses, which leads to ignition of raw materials, waste and finished paper products;
water ingress into liquor melts in recovery boilers - such explosions may cause destruction of the TPP building;
jamming or overheating of bearings in transfer stations, resulting in the ignition of rubber belts and wood raw material on conveyors;
overtemperature of drying cylinders in paper machines leads to pulp web ignition;
failure to maintain thermal insulation on process equipment and pipelines;
failure of contractors to comply with technological regulations and rules for working with electrical installations;
negligence of personnel and smoking in unauthorised places
Accidents at pulp and paper mills are categorised as complex. Due to the continuity of the production process, several shops are interconnected by kilometres of pipelines and conveyors through which flames and shock waves spread to adjacent pieces of equipment.
Pulp and paper mills are characterised by large dimensions. For example, the height of a digester can reach 80 metres. All these factors make it difficult to extinguish the fire and eliminate the consequences of the accident.
Explosion prevention and explosion protection of pulp and paper production facilities
Each pulp and paper mill must have continuous production control over compliance with fire and industrial safety. Plans of measures to localise and eliminate the consequences of accidents shall be developed.
Prevention of explosions at pulp and paper mills includes:
use of aspiration systems to remove cellulose dust;
timely cleaning of wood waste;
adherence to maintenance and service intervals for process equipment and aspiration systems;
use of fire-resistant materials and materials for finishing of workshops and storage rooms that prevent accumulation of cellulose dust;
use of equipment and devices certified for explosive environments;
training of personnel in safe methods and techniques of work performance;
regulation of and compliance with the rules for carrying out hot work;
control over the activities of contractor organisations, including checking the qualifications of their personnel.
The development of protection measures for pulp and paper mills starts with an explosion hazard audit. The project organisation determines the explosion hazard zones and makes recommendations on this basis.
Which methods of explosion protection in pulp and paper mills can be used according to ATEX Directive 153:
Installation of HRD systems to suppress explosions on conveyors, hoppers, crushers and other equipment near people;
use of explosion discharge panels or flameless explosion pressure relief devices (flame arresters);
use of check valves and slide gates to isolate the explosion and prevent its penetration into adjacent pieces of equipment;
installation of automatic fire extinguishing systems;
regular emergency and fire-fighting drills for employees.
Explosion prevention and explosion protection measures depend on the operating conditions and the complexity of the facility. They are developed individually for each company on the basis of legal requirements.
Specialised expert organisations design explosion protection systems. Their specialists determine the class of necessary devices, their installation locations, taking into account the specifics of a particular object. ATEX.CENTER specialists can carry out all design and selection of technical solutions on a turnkey basis.